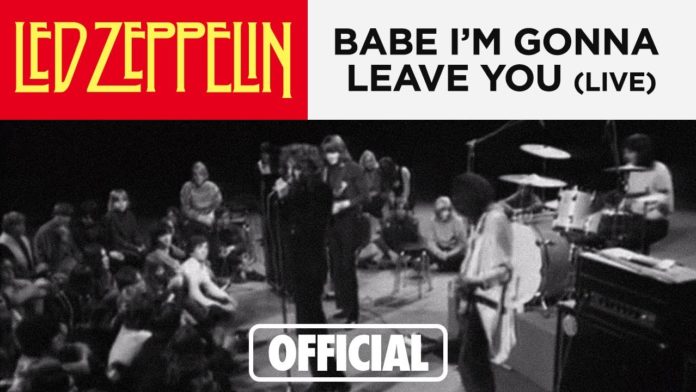 Anne Bredon/Page/ Plant
Записана и смикширована в октябре 1968
на студии Olympic Studios, London.
Смикширована на студии Plumpton Studio.
Инженер Глин Джонс (Glyn Johns).
Впервые выпущена 12 января 1969 на альбоме «Led Zeppelin I»
Выпускалась также на сборниках 6 мая 1990 года «Box Set» (Atlantic 82144), 6 октября 1993 года «The Complete Studio Recordings» (Atlantic 82526) и 5 августа 1997 года «Remasters«.

---
Заимствование
On all the box set releases, and releases since 1990, a credit has been added for Anne Bredon, an obscure folk musician who wrote and recorded the original song in the 1950s. Back in the 1980s her son was intrigued to hear his mother playing what he and the rest of the world thought was a Led Zeppelin song. After asking her why she was doing this, a quick trip to a solicitor saw her name added and her contribution recognised. Led Zeppelin's version is not that reminiscent of Bredon's original though, the Zeppelin version borrows from Joan Baez's cover of the song. When Jimmy and Robert got together at Jimmy's Pangbourn home in 1968 to evaluate each other, Page told Plant he had an arrangement of this song in mind which had a lot of «light and shade». Contrary to what Richard Cole claims, Plant did not pick up a guitar and play Page the riff, because he didn't play guitar at the time, and both Page and Plant have both said it was Jimmy that played the riff for Robert, and not the other way around.
---
---
Текст
Babe, baby, baby, I'm Gonna Leave You.
I said baby, you know I'm gonna leave you.
I'll leave you when the summertime,
Leave you when the summertime comes arollin'
Leave you when the summer comes along.

Baby, baby, I don't wanna leave you,
I ain't jokin' woman, I got to ramble.
Oh, yeah, baby, baby, I won't be there,
Really got to ramble.
I can hear it callin' me the way it used to do,
I can hear it callin' me back home.

I know, I never leave you, baby.
But I got to go away from this place, I've got to quit you.
Ooh, baby,
Baby, ooh don't you hear it callin'?
Woman, woman, I know, I know it's good to have you back again
And I know that one day baby, it's really gonna grow, yes it is.
We gonna go walkin' through the park every day.
Hear what I say, every day.
Baby, it's really growin', you made me happy when the skies were grey.
But now I've got to go away
Baby, baby, baby, baby
That's when it's callin' me
That's when it's callin' me back home…


---
Переводы
Перевод Ильи Кормильцева
Перевод на украинский Павла Лехновського
Перевод компании Софтел